School News
Susa Creek 25th Anniversary Celebration June 23rd
Posted on

June 26th, 2015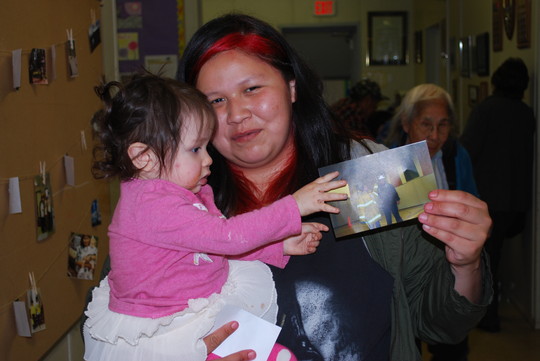 A walk down memory lane is one way to describe Susa Creek School's 25th Anniversary celebration on June 23rd. Current students, former students, parents, staff, elders and community members experienced a sense of euphoria while viewing photographs inside the school and discussing memorable moments with family and friends. While everyone enjoyed a BBQ dinner supplied by Seven Generations LTD, Susa Creek School Secretary Tammy Smith says it was nice to catch up with former students.
"That was really nice because I like to see what they are doing, how they have changed and how they have grown," said Smith. "Some of the parents that were here are former students and some of them have children that attend Susa Creek School."
One of those former students couldn't help but get emotional while discovering photos from the past. Robert Wanyandie says Susa Creek School will always have a special place in his heart.
"I enjoyed going to this [Susa Creek School] school," said Wanyandie. "Seeing all of these pictures brings back a bunch of great memories."
Robert's eyes lit up while viewing one particular photo. He explained that his class won a reading contest and the grand prize was tickets to an Edmonton Oilers game. Robert also described the excitement for a year end event at Susa Creek School.
"I think everyone looked forward to Crazy Sports Day," said Wanyandie. "The day included events like an eating contest and feeding people while blind folded."
Smith, who has been at Susa Creek School since it opened in 1989, says it was a special night for everyone involved and looks to forward celebrating more student success stories.