School News
Red Road Gala
Posted on

December 2nd, 2015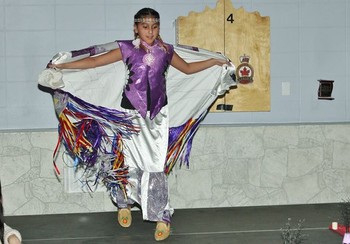 The 4th Annual Red Road Gala will be one to remember. The event, hosted by the Aseniwuche Winewak Nation's (AWN) Aboriginal Youth Council, carried on despite a power outage November 21st at the Grande Cache Legion. The council, which includes students from Susa Creek School, provided a night filled with dancing and drumming while wearing traditional clothing. The event helps to raise money for the youth council and promote healthy lifestyle choices for youth.
Kyleigh Wanyandie, "It was really fun and I was glad everyone was having a good time. My favourite part was the dancing. I was thought the show was going to stop when the power went out but when I heard that the show was going to keep going I was happy. Having a show in the dark, I could barely see, and I was a little afraid that I was going to fall of the stage when I was dancing. I enjoyed dancing."
Devina Doire, "It was nice, my favourite part was when the lights went out and we kept it going, working together as a community. It was different dancing and modelling in the dark. It was nice to see the new outfits and it was cool to hear the sound of the jingles to the beat of the drum."
Rhythm Hallock, "It was fun when I went there. When I first got there I was happy. I was happy that I got to perform and I was happy to see most of my family and walk (model) with my cousin. The silliest part is the when the power went off and on but I liked it when it went off. It was nice you could still see with the candles on the stage. I liked seeing everyone laugh and seeing everyone happy."
Rebecca Wanyandie, "It was fun because we got to model and dance. It was fun when I got to dance fancy."