School News
Pen Pal Program
Posted on

May 10th, 2015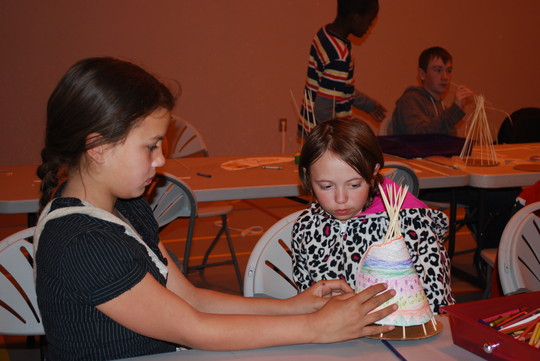 Transitioning from one school community to another is never easy for youth. It's a reality Susa Creek School student's face every year before moving to high school in Grande Cache. Jenni McDonald, a former Susa Creek School student, says the transition made it difficult to make friends, especially when you're used to being around family all the time. It got to a point where she turned to drugs and alcohol and dropped out of school.
Jenni, who is now in her 20's, shared her story with Program Therapist Trish St. Aubin. St. Aubin says the conversation motivated her to introduce a possible solution to Susa Creek School.
"I told her [Jenni] about the Pen Pal Program, which is originally from southern Ontario and she thought the program would be really good for Susa Creek School," said St. Aubin. "So that motivated me to talk to some people and ask questions."
Those conversations lead to rolling out the program during the 2013-2014 school year. The program is a partnership between Susa Creek School, Summitview School in Grande Cache, Homework Connections and various community organizations.
Joanne D'Lugos, Susa Creek School Teacher, says the whole point of the program is to try to get the kids here [Susa Creek School] to have friends in town [Grande Cache] that they will know when they go to high school when they have to merge. She explains that Susa Creek students in grades 5-8 interact with a grade 6 class at Summitview School in Grande Cache.
"We have a blog on KidBlog where students talk back and forth and communicate with each other, leave comments and things like that," said D'lugos. "We have had a few gatherings with each other. They have been out here, we have been into Summitview to do a drumming presentation, we went swimming together and we will have a year-end wind up at Hide-A-Way Camp."
On April 24th, students from Summitview School traveled to Susa Creek School to participate in various activities such as making tipis and cooking bannock. Students from both schools are glad to be a part of the Pen Pal Program.
"I think if we didn't have the Pen Pal Program, I wouldn't get to know the people in here and they're actually pretty cool," said Madison Williams, Grade 6 Student, Summitview School.
"We share artwork with Pen Pals and what we learn in class," said Jade Desmarais, Grade 8 Student, Susa Creek School. "It's a fun experience."
D'Lugos believes this program will be successful and there's evidence to suggest that.
"Some of the kids have actually hung out together outside of school," said D'Lugos. "They see each other up town and they talk to each other and they go on the blog and say I got to see my Pen Pal up town today. For sure they are making some connections that should ease the transition before they have to go into town [Grande Cache].

For more information please contact:

Curtis Walty, Communications Coordinator, Northland School Division
Office: 1-780-624-2060 extension: 6183
Cell: 1-780-219-1870